Open horse Show
Folks come to Polk County from all over for equestrian activities both to compete and to enjoy the action. Now there is another reason for riders and spectators to come to our area for equestrian fun. This show will feature riding styles from western to hunt seat and equines from mules to Icelandics and many other breeds.
When
May 11, 2013
from

08:00 AM

to

05:00 PM

Where

FENCE EQ side

Contact Name
Sue Truitt
Contact Phone

864-457-2718

Add event to calendar

vCal




iCal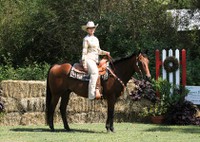 "Our area is home to a great diversity of horses and riders and this is an opportunity for all to come out, show off their hard work and have a fun time with mom", says FENCE Executive Director Carrie Knox. Friends of FENCE Open Show committee member, Sally Rock elaborates, "This show is exciting because it introduces a new element of competition for FENCE. There literally is something for almost every rider. At our last show, the adult high point award was won by a champion mule from Raleigh, NC named Queen Elizabeth."
Plans for the series of Open Shows (another is planned for November 2, 2013), include showcasing unusual equine breeds. Last year's show presented mules. The upcoming May show features Icelandic Horses. The fall show plans to feature Miniature Horses, known as minis. Mothers will also be featured at the May 11 show in honor of Mother's Day. A fun event planned for the day is the Mothers Lead line class. Moms will be in the saddle and kids will be on the ground leading moms around the arena in a reversal of typical roles. The Ranch Horse Pleasure class will be another unusual event. Part obstacle course, part precision movements and all partnership between horse and rider, this event will test horses and riders over a course of typical cowboy/ranch activities. To add to the fun for competitors and spectators alike there will be an Egg and Spoon Race where riders balance a raw egg on a spoon and go through various paces (including jumping!) until the last rider's egg on the spoon is the winner. The Pepsi Race is similar but the rider risks having Pepsi spill on them instead of a raw egg breaking on them and their mounts. Riders can be very skilled in these balancing events. It is very entertaining to watch them ride and balance at the same time.